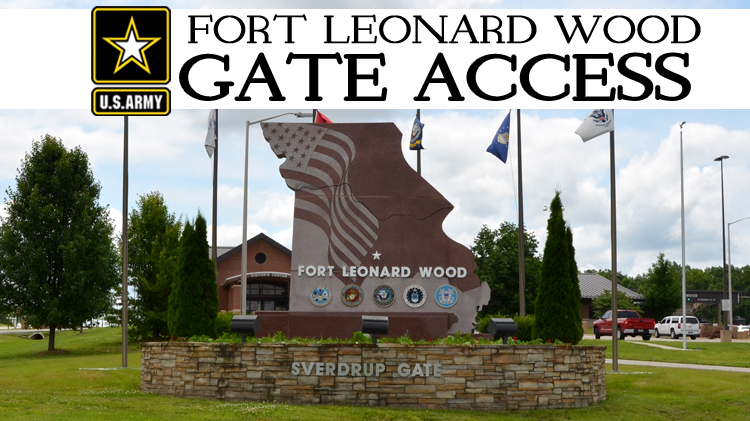 Fort Leonard Wood Gate Access
Fort Leonard Wood - Fort Leonard Wood, MO 65473 Fort Leonard Wood 65473 Google Map
Below is a list of requirements in order to gain access onto the installation:
Security Personnel conduct 100% ID checks at all gates of entry.
All persons age 18 years and older must present a state or federally issued picture identification.
Drivers' licenses and identification cards from the states of Maine, Montana, Missouri, Minnesota, and Washington are no longer accepted as a valid form of identification alone to gain access to Fort Leonard Wood and its facilities.
Other acceptable alternate forms of identification that may be used in conjunction with a state driver's license to potentially gain access to the installation include:

United States passport or United States passport card
Certified copy of birth certificate
Social Security card
Permanent Resident card/Alien Registration Receipt card (form I-551)
Foreign passport with a temporary (I-551) stamp or temporary (I-551) printed notation on a machine readable Immigrant Visa.
Employment authorization document that contains a photograph (form I-766)
New VA Healthcare card
For a list of other acceptable forms of ID, contact the Physical Security Branch at +1 (573)596-0597.
Person(s) operating a vehicle are required to have in possession a current driver license, proof of current vehicle insurance and current vehicle registration.
Visitors without a DoD or Federal Identification card must have a valid reason to access Fort Leonard Wood, must undergo a criminal history background screening, and be issued a Fort Leonard Wood Pass.
Passes can be obtained at the Main Gate Visitor's Center located at the Main Gate (North) in Building 100 adjacent to Missouri Avenue.